This site is a basic, simple primer on the story of religious liberty and separation of church and state in America. Occasioned by the systematic efforts of some contemporary Christians and politicians to deny the historical fact of America's founding as a secular nation (governmentally) with religious liberty for all and church state separation, this site offers a brief overview of the historical record and points readers to primary documents and reliable secondary material.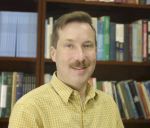 Bruce T. Gourley is the project developer. Bruce, a historian (Ph.D., Auburn University), is the Executive Director of the Baptist History & Heritage Society, online editor of the Baptists Today news journal, and the author of six books, including A Capsule History of Baptists.
Bruce welcomes your comments.